April                           CONTACT CAPT. RICHIE AT 410.310.1700
Catch & release fishing on the Susquehanna Flats that form the headwaters of the Chesapeake Bay. Large coastal migrant stripers arrive in waves and join the resident stripers to gorge on the herring and shad that cross the Flats on their spawning runs to the Susquehanna River.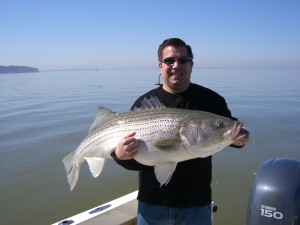 Much of the water here is very shallow and we target the stripers in the shallows with soft plastics, top water lures, and flies. The fishing can be hit or miss as the stripers show up in waves. Hit it right and you have an excellent chance to catch that fish of a lifetime here. We catch some of the largest fish of the season here each year.
May & June
Eastern Bay and the waters around the Kent Narrows area provides great opportunities for a mix of the large ocean-run and resident "schoolie" size stripers as they work their way down from the spawning areas in the mid and upper portion of the Chesapeake. We target the fish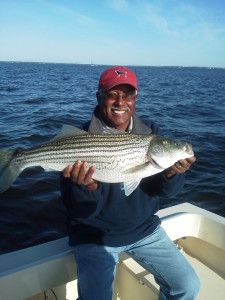 from the shallows out to humps and other offshore structure and the bite is usually good thru mid-June. Late May thru the fall is also good for speckled trout and redfish on the lower portions of the Bay. We fish the shallow waters of the upper Tangier Sound area and barrier islands on these trips.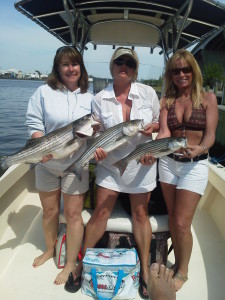 July to September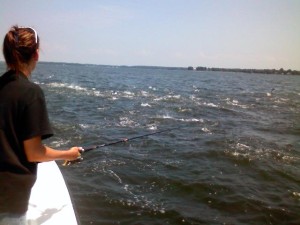 Resident stripers set up on offshore humps and chase baitfish in the open water and we'll be right with 'em. Breaking stripers blitz the surface with blues and Spanish mackerel mixed in starting in mid-July. We fish the main body of the Chesapeake Bay this time of the year and often find large schools breaking fish each day. This is prime time to catch large numbers of stripers on any tackle you wish. This fishing is also from the Kent Narrows area.
The fishing in the lower Bay for specks and redfish is also in full swing at this time of the year. Grass flats, stumpfields, wrecks, and sod banks get our attention with soft plastics and fly gear.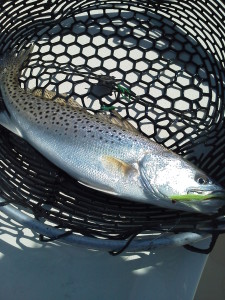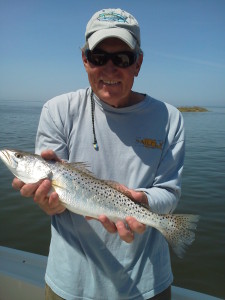 October & November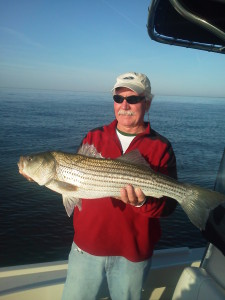 As the water cools multiple fishing patterns develop in October. We may start by casting topwaters in the shallows, then move to jigging over offshore structure, and end the day chasing breaking fish at this time of the year. October is our wild card month, bait and fish are moving at this time of the year and the fishing can be feast or famine.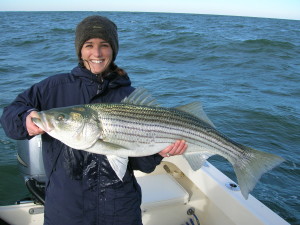 December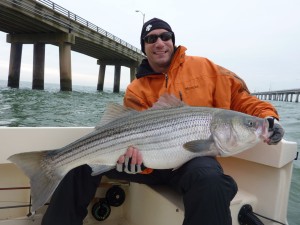 Early winter can be great for both quantity and quality stripers. We fish the Lower Bay and Potomac River area at this time of the year to intercept the large migration of ocean run stripers working their way down from New England and the resident fish migrating to the Ocean for the winter. This is big water, big fish fishing at its best.